Yoga Anak berkebutuhan Khusus membantu dalam meningkatkan kualitas hidup secara fisik dan mental.
Join the community. We believe every child with Special Needs has the potential to improve.
Children with special needs have an opportunity to get better by running yoga therapy. Not everyone know that by running yoga therapy for special need children, they get benefits far beyond the estimates of society in general. Indeed this is not yet a public opinion.
Imelda Tirtadiredja as a yoga therapist has done that with the special need children and their parents. With good results. And this can be understood logically.
Yoga therapy for children with special needs (special child) is not the same with the application of yoga for children in general, even with conventional therapy though.
Why are breathing exercises important?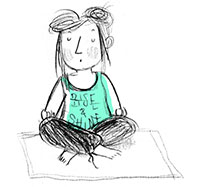 Yoga therapy fills the missing gaps in conventional therapy. This therapy combines with physical, mentally and the soul as a unified whole that can not be separated from a child to attain his or her mindfulness (qualities or circumstances where self-awareness and environment are attained). While in conventional therapy only drip on the physical and mental only.
It is the breath that distinguishes. As an example of speech therapy (speech therapy) that bridge is the breath (vital energy). Where this is not done on conventional therapy. Normal newborn baby, breathing 40-45 times per minute, as they are getting bigger in the first year, it slowed down to 25-35 times per minute. The baby begins to recognize a variety of words, in normal children the words that he spoke will be accompanied by movement, But for children with special needs, diaphragm experiencing problems, oxygen does not enter smoothly. So the breath will be like a baby with 40-45 per minute (inhale exhale), this affects his speech. This is what is fixed in pranayama.
Special need Children big problem is in the brain, with Neuroplasticity, with oxygen intake in the brain, he will become more relaxed. Consider if you feel angry, how is your breath? Harsh and short. So also with children with special needs.
Flexibility
Apart from pranayama, the benefits of yoga are given to improving muscle flexibility, awakening awareness to the child's body sensor. There are so many children of the present generation who can not squat. They will tipto when they do it.