Lower Back Pain and Scoliosis workshop with Putu Dwijendra
March 24, 2022

-

March 27, 2022

IDR 2.500.000 – IDR 5.500.000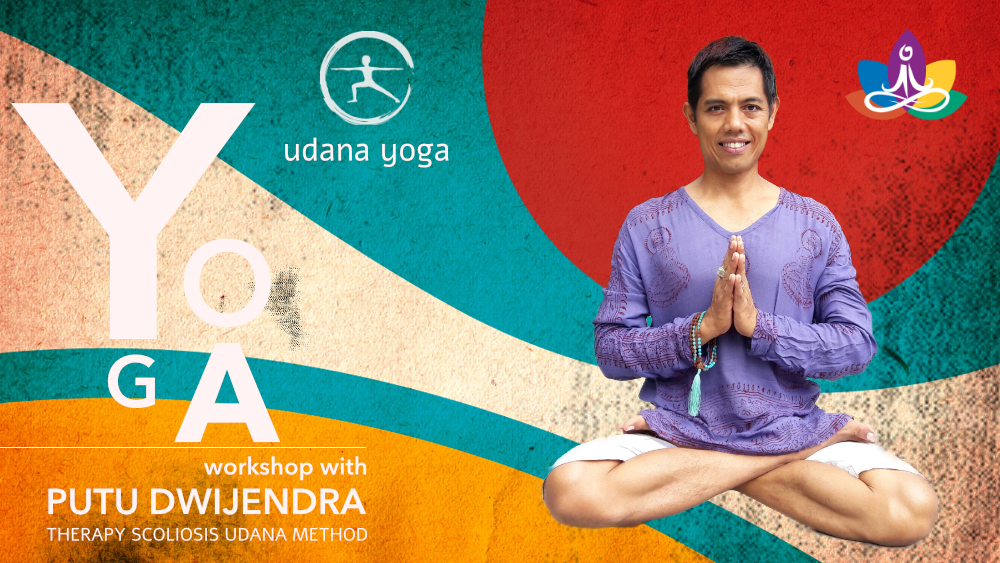 Experience the most awaited training workshop with Putu Dwijendra @colouryoga.
Our spinal curves are there for a reason – they help balance weight distribution throughout the spine. However, in some people, the curves are either too much or too little. Yoga helps with balancing these spinal curves for optimal function in the body. With the aging body comes gravitational forces that can affect our physical structure, and repetitive use samskaras that can negatively affect our posture. For many of us, we can see firsthand a wide variety of spinal curvature issues and conditions in our Gentle, Senior and Chair Yoga student population. Understanding how Yoga can help students with these curvature issues practice efficiently and safely to achieve pain relief often associated with spinal imbalances is empowering for us as Yoga Teachers.
This workshop will take an in-depth look at spinal kyphosis and lordosis, flattened thoracic curve, lower back pain as well as scoliosis. Putu Dwijendra will cover key aspects of spinal anatomy and how Yoga can specifically aid in balancing these curves.
Timetable
24-25 March 2022: Lower Back Pain
26-27 March 2022: Scoliosis
Tickets
End of Early Bird is 20 March, 2022.
Note: All participants will get certificate, module, lunch and snack.
About Putu Dwijendra
Putu Dwijendra is a founder and teacher of Udana Yoga, The Bali Yoga Academy. Putu Dwijendra began teaching yoga after receiving international certification from Sivananda Yoga Vedanta Ashram in Nevyar Dham, Kerala, South India in 2006. He became a member of the Yoga Alliance and built a registered yoga school accredited under the name Udana Yoga, The Bali Yoga Academy. He believes that he learns to teach and teach to study. For him yoga is a journey to self-understanding rather than just posing. During his class, he will guide you on how to align your breath with your posture and connect with your mind so that you are always connected to the present. Flowing energy to every part of your body is something he likes you to do.
TERMS AND CONDITIONS
If notice of cancellation is received 14 or more days prior to the program date, program fee will be refunded and the sum of Rp 50,000 shall be deducted by Colour Yoga as an expense of administration. Refunds will not be issued for cancellations received less than 14 days prior to the program date.
Colour Yoga shall not be responsible for refunding airline tickets or hotels under any circumstances. Please don't make any travel arrangements before local program coordinator confirms the program with Colour Yoga.
If the program is canceled by Colour Yoga, in which event you will receive a full refund.