WELCOME OFFER
If you've never joined Colour Yoga, you are eligible for one of our Welcome Offer to help you start doing yoga program. So what are you waiting for, let's start joining the Colour Yoga community.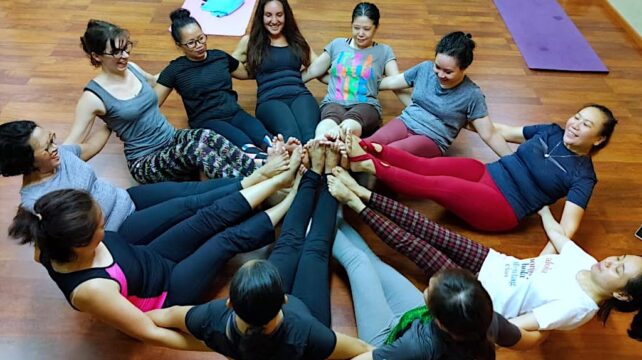 Welcome Offer for Adult Yoga
for only 450K
If it's your first time to Colour Yoga, try our welcome offer.
In-studio 5 Class Pass for 5 weeks!
For new student only.
YOGA PACKAGES
Pick your plan and start yoga today :)
Adult Yoga
Yoga everyday keys the doctor away.
Class Pack (In Studio)
Weave yoga into your lifestyle and wellness routine with a Colour Yoga class package.
Memberships (In Studio)
Transform your mind, body, and soul with an unlimited yoga membership, jam packed with exclusive perks and yoga goodness!
Kids Yoga
Hey kiddo, be alive, be strong, be fit, be relaxed, be happy. Just be. Teaching and Supervision by Imelda Tirtadiredja.
Kids Yoga Livestream
Packages for livestream session
4 Class Pack Virtual
Kids Yoga 4 Virtual Classes
Group Class
ONLINE CLASS
Kids Yoga (In Studio)
These packages valid for in person session. Studio for kids begins in January 2022.
Prenatal Yoga
There is no way to be a perfect mother... but a million ways to be a good one. Note, to join this class the minimum gestational age is 12 weeks.
Private Yoga
Packages for everyone with specific conditions that needs special attention.
Private Yoga (In Studio)
These packages valid for both in person and livestream session.
On-site Adult Private
To meet the needs
Private Yoga Livestream
These packages valid only for livestream session.
Private Yoga (In Home)
Enjoy private yoga in the comfort of your home.
Special Needs Yoga
Yoga for special needs inc. autism, ADHD, down syndrome. Taught by Yoga therapist Imelda Tirtadiredja. Her teaching has improved the lives of children and adults with special needs for almost 15 years.
Assessment
A one-time assessment for children and adolescents with special needs is required before purchasing Special Needs Yoga.
Assessment Fee
Includes counseling with parent.
One time purchase only.
Special Needs Class Pack
Please discuss with us in advance to pick up the package that suits your needs.
Special Needs 4 Class Pack
One-on-one therapy.
In person or online.
Improving the Lives
Special Needs 8 Class Pack
One-on-one therapy.
In person or online.
Improving the Lives
Yoga for Scoliosis
Spine Care · Posture Correction · Physiotherapy. Therapy for people with lower back pain, asymmetries and scoliosis.